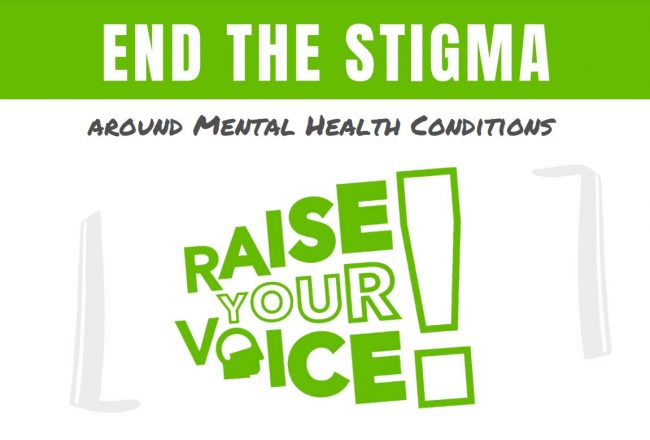 Raise Your Voice Clubs in Oneida County
Raise Your Voice is a club that empowers teens to create a new conversation about mental health through education, leadership development and civic advocacy.
Raise Your Voice clubs in Oneida County are currently located at:
Rhinelander High School

Meets Tuesdays during the school year at Rhinelander High School.
Click on the image below to read a news article about the RYV Club at RHS.
To participate or to receive more information, please contact:
Sharon Krause
UW-Extension Positive Youth Development Educator for Oneida County and Lac du Flambeau Tribe
Phone: 715-365-2750 or 608-381-2661
Email: sharon.krause@wisc.edu
Raise Your Voice clubs in Oneida County are the result of a collaboration between NAMI Wisconsin, UW-Extension Oneida County, and local school districts.
———————————————————————————————-
State Of Teen Mental Health In Wisconsin
Information Source: NAMI (https://namiwisconsin.org/education-programs/for-youth-young-adults/raise-your-voice/).
1 IN 5 YOUTH AGES 14–24 ARE
LIVING WITH A SERIOUS
MENTAL ILLNESS

THE AVERAGE DELAY BETWEEN
ONSET OF SYMPTOMS AND INTERVENTION
IS 8–10 YEARS

ABOUT 50% OF STUDENTS OVER
14 WITH MENTAL ILLNESS
DROP OUT OF HIGH SCHOOL
The high school years and the transition from high school to college are critical periods in the lives of young people.
State and federal priorities have identified a significant need to expand services and interventions for transition-age youth (ages 14 to 24) and provide early intervention. But, a gap remains — giving a voice to the young people themselves. There is no statewide initiative to cultivate youth leaders in the area of mental health in Wisconsin. California is the only state that has developed a youth mental health leadership curriculum. NAMI Wisconsin has use the experience from California to develop Raise Your Voice (RYV), a program that is designed specifically for Wisconsin young people.
A Solution… A Club Dedicated to Increasing Mental Illness Awareness, Inspiring Advocacy and Promoting Acceptance
——————————————————————————-
WELCOMING STUDENTS WHO
Are a family member or a friend of someone with a mental health condition
Have an interest in mental health awareness and advocacy
Live with a mental health condition
RAISE YOUR VOICE CLUB
Empowers young people to speak up and create an open dialogue about mental health
Creates a community that works to reduce stigma on campus
Promotes acceptance for students living with or who know someone who is living with a mental health condition
Cultivates youth leaders around civic advocacy at the local, state and national levels
Develops youth leadership
RYV CLUB IS NOT
A support or therapy group
A place to get diagnosed
About identifying or labeling others who may or may not have a mental illness
STUDENT BENEFITS
Develops leadership skills and become mental health advocates
Expands awareness of mental health and wellness
Impacts peers
SCHOOL & COMMUNITY BENEFITS
Establishes a school as a place that values mental wellness for all
Reduces stigma and discrimination against mental illness
Offers an ongoing forum (club) that focuses on raising mental health awareness
Investing in youth leadership enables future leaders to take control of the conversation and advocate to change the way people in Wisconsin think about youth mental health.
———————————————————————
For more information, contact:
Sharon Krause
UW-Extension Positive Youth Development Educator for Oneida County and Lac du Flambeau Tribe
Phone: 715-365-2750 or 608-381-2661
Email: sharon.krause@wisc.edu