What is 4-H?
Oneida County 4-H is a youth-based organization that is free to join. The four H's in 4-H stand for head, heart, hands, and health. That means we are committed to providing opportunities for youth to learn life skills like decision-making, problem solving, caring for others, generosity, making healthy choices, and more. In any setting – online or in person – through 4-H youth have the chance to become leaders, make decisions, and make their voices heard.
Who can volunteer with 4-H?
Anyone age 19 and older who cares about young people. You do NOT need to be a parent or an expert!
How do you become a certified Oneida County 4-H volunteer?
It's a simple as A…B….C!
———————————–
Step 1 (A): Sign up online, on paper, or by phone
Enroll as a 4-H volunteer for free online or download a PDF adult volunteer enrollment form (email it to apwilliams@wisc.edu or mail it to: UW-Extension Oneida County (Oneida County 4-H), 5350 College Drive, PO Box 518 Rhinelander, WI 54501.
NEED HELP ENROLLING IN 4HONLINE?
Click here to view the 4HOnline Family and Volunteer Enrollment Guide.
———————————-
Step 2 (B): Background Check
After you enroll online or submit your enrollment form, UW-Madison will send you an email asking for your permission to run a basic background check (at no cost to you).
HireRight Step by Step Instructions
———————————-
Step 3 (C): Volunteer Training
Complete the 4 trainings below. You can schedule to attend one in-person training that will cover all 4 trainings at once, or you can do each of these trainings on your own:
Volunteer In Progress:  Learn more about 4-H and UW-Madison's Division of Extension. We want to make sure you feel comfortable and safe volunteering with 4-H! Contact your local 4-H Educator
Mandated Reporter Training: Offered through 4HOnline. Log into your 4HOnline account and complete this training.
Building Safe Spaces:  Details are located at https://4h.extension.wisc.edu/resources/volunteer-resources/training-for-volunteers/building-safe-spaces/.
Title IX / Sexual Misconduct Training:  Details are located at https://4h.extension.wisc.edu/resources/volunteer-resources/4-h-foundations/volunteer-training-faqs/. Instructions on how to take this training: https://4h.extension.wisc.edu/files/2022/03/Title-IX-Training-Instructions.pdf 
Want to Chaperone an Overnight 4-H Experience for Youth?
4-H volunteers who would like to serve as an overnight chaperone for youth are required to take this training:
Supporting Youth Mental Health: Details located at http://symh.wi4h.org.
—————————————————————-
Recognizing Oneida County 4-H volunteers!
———————————————————————–
Volunteer Resource Videos
Are you an adult volunteer looking for ideas? Clover Connections is new video series to help you connect with your club members, run effective meetings and much more. The videos are short and conversational – like if you walked into the office and asked a question on the topic. The videos feature relevant content that is driven by the needs and interests of our adult and youth volunteers. New Clover Connections video each week – watch our social media channels for links and more information!
Current Clover Connection videos can be found at:  http://bit.ly/CloverConnections
---
What are the benefits of volunteering?
Volunteering with 4-H benefits the young people, the community and you — the volunteer.
Pass your knowledge with the next generation
Build your own skills as you help young people build theirs
You will receive regular training and support
Grow your network in your community
Feel pride in making a big impact in the lives of young people and adults in your community
Make a difference!
4-H is unique! Youth learn how to solve problems, make decisions and communicate ideas
4-H is the largest youth organization in the nation
Our methods are backed by university research
All learning is project-based — 4-H'ers learn by doing
Our volunteers receive ongoing training and support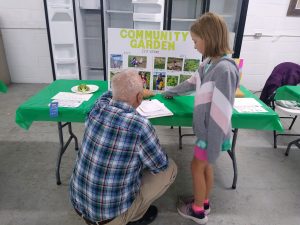 ---
Questions? Need clarification? Contact Oneida County 4-H Staff:
Anne Williams, Oneida County UW-Extension 4-H Educator
Phone: 715-365-2750     Email: apwilliams@wisc.edu
More information: https://oneida.extension.wisc.edu