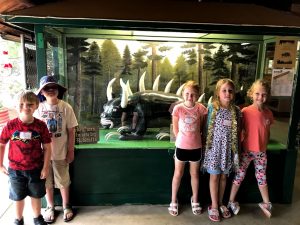 Cloverbuds is a 4-H project that includes children in grades 5-year old Kindergarten through 2nd grade. 4-H Cloverbud programs are developmentally appropriate, activity-focused and built on cooperative learning. The primary difference between a 4-H Cloverbud activity and a 4-H Project area is that the member engages in varied activities with focus on developing a specific skill or concept utilized in completing the activity, rather than focusing on a long-term planned course of study in a specific subject area.
Participation, safety, personal development, learning and fun are the highest priorities for the Cloverbud project.
What do Cloverbuds do?
Learn about their 4-H club or group; begin developing different skills, e.g., working with others; learn about 4-H activities and events; explore their community; discover areas of project interest; and share with others what they have learned.
Cloverbud 4-H activity booklet.
What do Cloverbud Leaders do?
Cloverbud project leaders are encouraged to use curriculum materials developed specifically for youth in grades K-3rd. 4-H materials developed for older youth are not appropriate for younger children because they do not meet their developmental needs. Volunteer leaders also have responsibility to communicate regularly with families, explaining the program and encouraging their involvement.
How do I sign up my child for Cloverbuds?
Register for 4-H (it's free!) and select Cloverbud (1st year) as their project.
Questions? Need assistance?
Anne Williams
    Oneida County UW-Extension 4-H Program Coordinator   Phone: 715-365-2750   Email:
apwilliams@wisc.edu