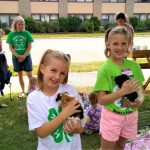 Do you have a pet guinea pig, turtle, snake (non-poisionous), iguana, lizard, gecko, crustacean, amphibian (non-poisionous), bird, rat, mouse, ferret, chinchilla, hamster, rabbit, or chicken at home that you would like to learn more about or show others? Or maybe you don't have an animal, but are wondering what it would be like to care for one of these animals? Would you like to meet others who like the same animals as you? This new club is for youth in grades K-12 in Oneida County.
This club is free for all youth in grades 5K-12. No 4-H experience is necessary and you do not need to own an animal to participate! However, you must be enrolled in 4-H to participate. 4-H is free to join anytime.
What do we do in Small Animal Club?
Practice holding small animals:
Meet others who are also interested in small animals:
Learn how to better care for our small animal (nutrition, checking vitals, etc.):
Visit other places around the community that help care for animals:
Bring in guest speakers to learn from and ask questions to: